CALL FOR #EGALITY from @Think Thank Marie Claire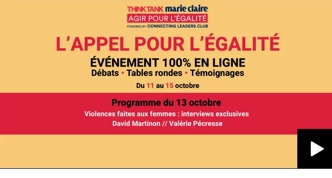 A day dedicated to the positive impetus given by women in all sectors which ended with a round table on the business world where @CristinaLunghi, President @Arborus gave her point of view on the issues related to #IA. "AI is a gas pedal of innovation and must also be a gas pedal of the History of Equality" she said.
Indeed, @Arborus is committed to a #IA #Inclusive with the launch in 2020 of the 1st International Charter for an Inclusive AI, signed by the @Think Thank Marie Claire @ Valerie Hoffenberg and the GEEIS-AI label of which the Orange Group was the 1st certified company.
CALL FOR #EGALITY by @Think Thank Marie Claire is an important tool that aims to put the major subject of equality on the side of the debates to make it, as @Arborus calls it, a "lever for the recovery and for a better world".
Watch the event online: https://www.marieclaire.fr/think-tank,2616046.asp2