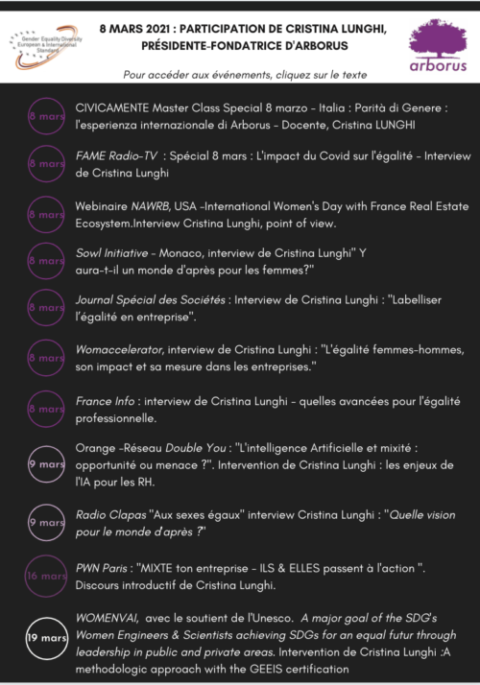 This year's March 8 was held under the auspices of AI.
Each week has seen many events on this major topic. Arborus was honored to be able to contribute to a number of them, which Clémence, our communications/marketing apprentice, has put together below.
AI represents an incredible challenge: for the best, as for example the creation in record time of the vaccine against covid-19, but also for the worst if we are not careful because it can very quickly be detrimental to our freedoms, since it works on the basis of the collection of our data...
Arborus is aware of these risks and of the possible questioning of the equal opportunity policies that we implement through our methods and with the GEEIS label. In 2020, in partnership with ORANGE, we launched the 1st International Charter for Inclusive AI and, in the wake of this, a specific label on this subject, GEEIS-AI, whose audits are carried out by Bureau Veritas.
These are the social and societal innovations that we presented throughout the month of March with our partners PWN, Orange, Le Cercle InterElles, the Laboratoire de l'Egalité, the radio station TV FAME...
An opportunity to meet men and women of great competence in this field.
Happy reading or viewing....
CLICK HERE TO VIEW OUR EVENTS: MARCH 8 EVENTS