ARBORUS PRESENTS GEEIS AT MEXICO CITY'S LATIN AMERICAN SUMMIT ON EQUALITY LABELS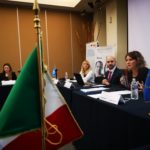 Cristina Lunghi presented the Gender Equality European & International Standard (GEEIS) at the international conference in Mexico City on September 13-14, organized by UNDP and the Mexican Ministry of Women's Rights.
Eurosocial and France Expertise led a roundtable discussion where the French equality label and GEEIS were presented.
Namadie Faure (SDFE) recalled the interest of a national label in support of a public policy on professional equality.
Cristina Lunghi (Arborus) emphasized the synergy between a national and international approach. Alfonso Martinez-Saenz of Expertise France, who moderated the roundtable, emphasized the complementarity of these two approaches.
The Latin American states present presented their own labelling systems.
The first analyses that emerge from the Latin American benchmark, is that the approaches are similar, with specificities, which divide the labels into typologies, according to the size of the companies, their legal nature (public or private), with a problem of more or less flexible reference frame and price.
The GEEIS standard was appreciated and considered a useful and unifying tool for national labeling processes.