CONNECTING WOMEN - THE SOLIDARITY OF WOMEN.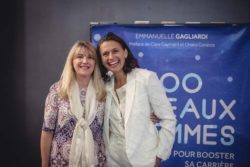 This year again Emmanuelle Gagliardi, organized a festive event that brought together 500 women's networks under the banner of solidarity.
In her introductory speech, Emmanuelle Gagliardi gave the rules of the game for this evening: each network commits to carrying out a project of another association...She recalls that this idea was inspired by Cristina Lunghi, President of Arborus.
Cristina Lunghi also strongly emphasized during her speech the power of women if they are united. "We represent more than half of the Humanity and intelligence on the planet...it is time to be in solidarity to change the system..."
She reminds us of the challenges of creating a global culture of equality through the human resources policies of companies in particular that have the vision and capacity to act through the international standard of GEEIS certification audited by Bureau Veritas.
She ended her speech by inviting those who wish to do so to share the launch
Launching in New York at the United Nations headquarters on September 16 of a new tool that promotes the necessary system change, that is, the integration of gender issues into strategic issues of sustainable development at the international level with the awarding of GEEIS-SDG trophies.