Invitation to the preview of the film "Marinette", May 11, 2023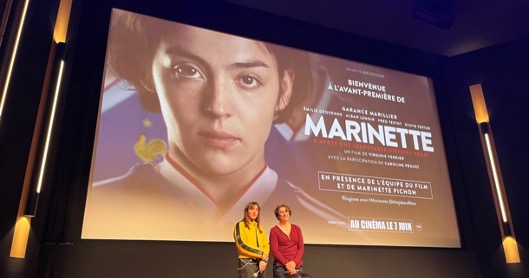 Merci à Anne-Sophie Nomblot de son invitation à cette avant-première qui nous a permis de rencontrer Garance Marillier qui incarne magnifiquement la championne Marinette PICHON présente aussi pour cet évènement.
Un film à ne pas manquer car au-delà de la performance artistique et du récit, il nous montre à quel point le sport au féminin, et notamment le football, a encore beaucoup de chemin pour une égalité entre les femmes et les hommes.
Lors du débat qui a suivi la projection, Marinette PICHON nous a indiqué qu'aujourd'hui encore, les équipes féminines de foot en France n'ont pas de statut professionnel. On espère voir cette inégalité gommée rapidement !