Launch of the first international charter for inclusive AI.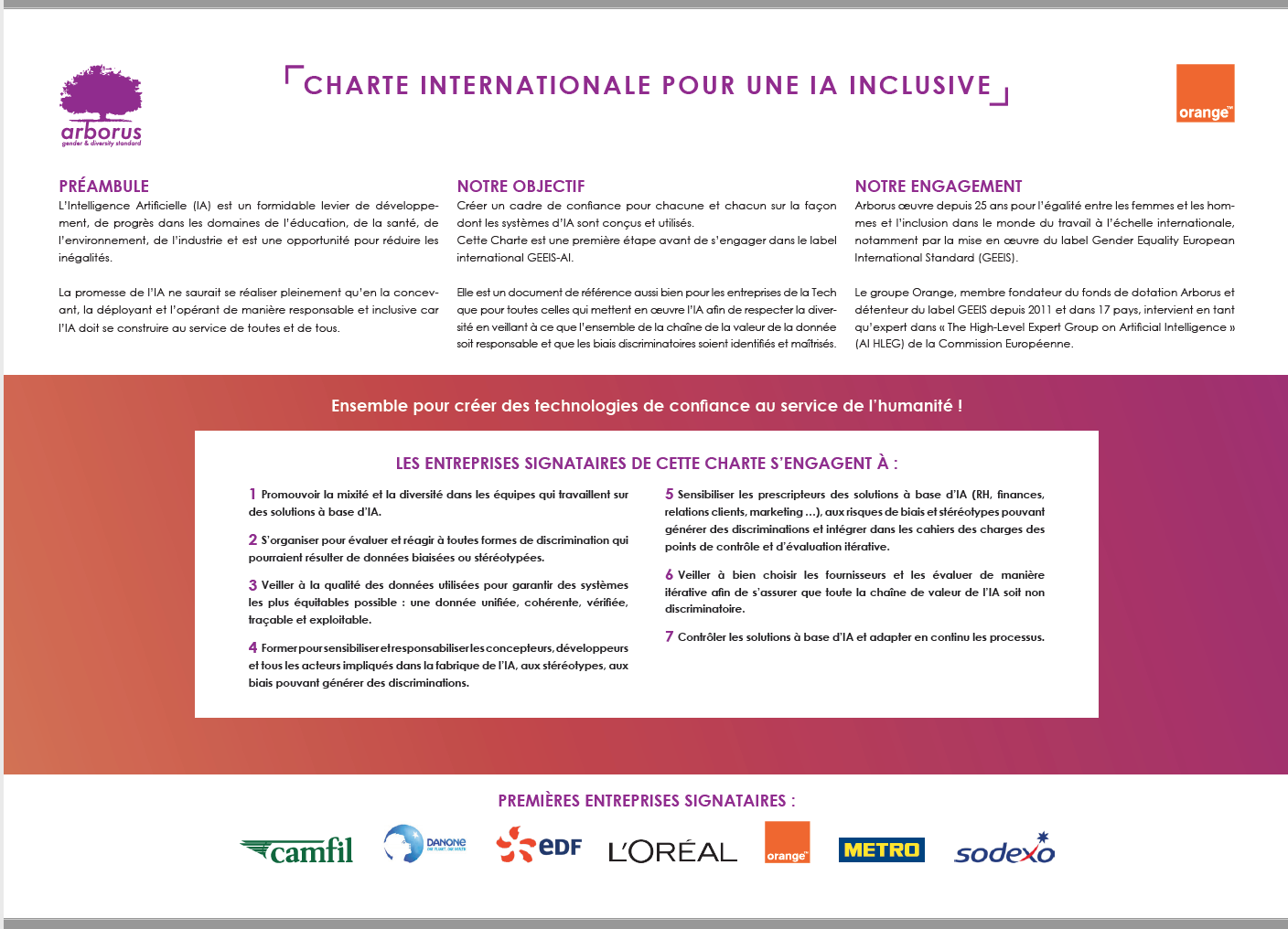 Arborus and the Orange Group are launching today, Tuesday April 21, 2020, the first international charter for inclusive AI.
It is launched under the patronage of Cedric O, Secretary of State of State to the Minister of the Economy and Finance and the Minister of Action and of Action and Public Accounts, in charge of the Digital Economy, with the support of the support of Delphine O, Ambassador and Secretary General of the UN World Conference on Women, and Nicole Ameline, Vice-President of the UN CEDAW.
This Charter is intended to be a reference for all companies committed to companies committed to equal opportunity. Its purpose is to to ensure that Artificial Intelligence (AI) is designed, deployed and and operated in a responsible and inclusive manner.
It is based on a deep conviction that artificial intelligence has taken an increasingly important place in our society and is a formidable lever for society and constitutes a formidable lever for development and progress in the fields of in the fields of education, health, the environment and industry. industry. We also believe that this technology is also an opportunity to an opportunity to reduce inequalities. This is why we want to to put it at the service of one of the great challenges of the 21st century that of equality and inclusion.
The international charter we are launching is based on seven commitments to create a framework of trust in the way AI systems are AI systems are designed and used.
CAMFIL, DANONE, EDF, LOREAL, ORANGE, METRO, SODEXO companies committed to a European and international policy in favor of professional equality equality and GEEIS label, are the first signatories of this Charter. signatories of this Charter.
They are thus opening the way for all companies, whatever their size size, to join us in this pioneering approach.
Visit the site and read the Charter, see the CP and DP: https://charteia.arborus.org