PREPARATIONS IN NEW YORK FOR THE NEW GEEIS-SDGS AWARD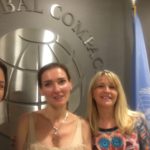 In response to the inclusive social transformation missions that companies are increasingly developing, the Arborus fund wanted to expand the GEEIS standard in 2017 to include diversity and the fight against multiple discriminations, of which women are particularly victims, especially concerning minorities, poverty and violence.
In 2018, the Arborus Fund plans to create a GEEIS-SDGs" award in connection with the United Nations.
This Award will aim to highlight the actions carried out by GEEIS certified companies on subjects related to those of strict equality in their human resources.
In July we worked with the United Nations in connection with the French Embassy and the Global Compact.
At UN Women headquarters in New York