ARBORUS AND GEEIS ON THEIR WAY TO THE SDG-GEEIS FOR THE UN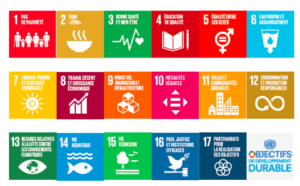 The member companies of the Arborus Endowment Fund,( see : side event UN 2018, testimony of the Carrefour and Orange Groups ) and DANONE, which has just joined Arborus and the GEEIS, wanted to enrich the GEEIS international label with the UN's Sustainable Development Goals (SDGs)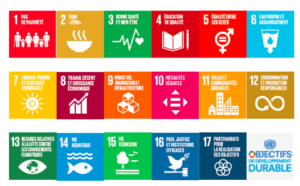 See the press release: CP - side after event NY March 22, 2018-DEF
This proposal was presented during a side event (event in the framework of the two UN weeks on women's rights), organized by the UN CEDAW Committee and France, in the presence of UN Women, UNDP and Egypt.
This event was a great success with many participants and received a very positive reception from France represented by Ambassador François Delattre, Permanent Representative of France to the United Nations and by Cedaw, represented by Nicole Ameline, Former President of the CEDAW Committee and Former Minister for Equality and Parity of France, UN Women, UNDP and Ambassador Mohammed EDREES, Permanent Representative of Egypt to the United Nations.
Cristina Lunghi, founder of Arborus and the GEEIS label, explained how International companies, through their participation in the Arborus Fund and their GEEIS certification, are demonstrating their commitment to systemic change that places gender equality at the heart of their strategy.
This innovative approach translates into concrete actions, measurable both quantitatively and qualitatively, with a specific evaluation of the concrete impact of the measures on the global common culture of equality.
The actions of the companies allow not only the application of local law, but also international law and are thus the interface between the public and private sectors.
Cristina Lunghi illustrates this point with the Pioneer for the Future-BOOST HER action carried out in Egypt (link to the project)
Anne Claire BERG, Director of Culture and Engagement at Danone, illustrated how the SDGs are at the heart of the projects developed by Danone directly or through Danone Ecosystem, with an impact on the role and status of women: the projects "Ukraine Milk Communities", "Omda Satheen" in Egypt, "The Social School for Women empowerment" in Spain as well as the campaign "Thanks Mum, You're working" in Turkey were shared to illustrate the contribution of private companies to the stakeholders to feed the MDGs.
Present in 37 countries with 200 GEEIS-labeled entities, the Arborus fund has therefore proposed to integrate the SDGs into the labeling process. This is a way to further integrate all the actions carried out by companies in favor of equal opportunities and the environment into a single, global and well thought-out approach.
Cristina Lunghi launches the project of a new tool for the United Nations and the Planet on SDG -GEEIS !
The ambassador, François DELATTRE, concludes this event by saying that it will be a landmark.