Launch of the International Club for Inclusive AI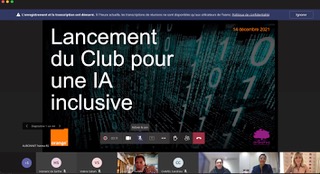 On December 14, Arborus and the Orange Group launched the Inclusive AI Charter CLUB with 51 signatories.
After an introduction by Cristina Lunghi, President and Founder of Arborus, Delphine Pouponneau, Director of Diversity and Inclusion at Orange explained the content of the Charter.
Laurence Devillers, Professor in AI at the Sorbonne, Researcher at the CNRS and President of the Blaise Pascal Foundation, gave a fascinating presentation on the challenges of AI. She welcomed the creation of this Club which represents a positive action to raise awareness and act for an indispensable inclusive AI.
To launch the debate between the members, Naïma Aubonnet, Director of Awareness and Prospective D&I, Orange presented the results of the survey that had been proposed to the guests to better understand their expectations.
The discussion with the Club members was rich and enthusiastic.
A program for 2022 is taking shape to make this Club a place for monitoring, benchmarking and benevolent exchanges to contribute to a better world.
At the end of this first meeting, the book signed by Laurence Devillers " Les robots émotionnels ; Santé, surveillance, sexualité... : et l'éthique dans tout ça?
AI must be a gas pedal of equality, inclusion, ethics.
Come and join us by signing the Charter: https://charteia.arborus.org