THE GEEIS EQUALITY TOOL IN THE ORANGE GROUP'S GLOBAL AGREEMENT ON PROFESSIONAL EQUALITY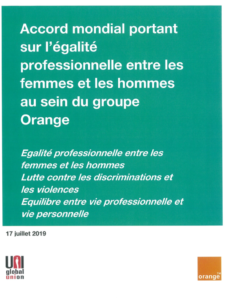 The Orange Group has achieved a major first by making the GEEIS a tool for social dialogue and international measurement of equality and diversity.
On July 17, 2019, in the first chapter of the Orange Group's global agreement for equality between women and men devoted to social dialogue, the GEEIS label is mentioned as a tool to ensure the effectiveness of the deployment of the Group's policy in favor of professional equality and the identification of good practices at the international level.
Indeed, the GEEIS is a tool, guiding but especially measuring the actions implemented and the progress to be made.
In doing so, it provides a true international dashboard.
This approach, which combines actions and measures, is complemented by the Stakeholder Dialogue, which ensures that the policy is consistent with the expectations of external and internal stakeholders in relation to the major themes of diversity, including gender equality, and identifies priority areas for action.