RESPECT ME, THE FIRST APPLICATION AGAINST SEXISM!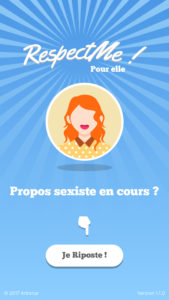 Launched on October 11, 2016, Respect Me is an immediate retort to sexism.
The application is intended to play down the subject in public with a sense of humor and humour. It is a way to talk about the subject from a distance and to allow individual awareness without making people feel guilty.
For the past 10 years, companies that have obtained the Equality Label have been meeting within the Club to share their experiences and practices in the area of professional equality. Each year, the Club carries out an outstanding action. This year, sexism is at the heart of the conversations. It is in this context that the Equality Label Club and Arborus decided to create Respect Me.
Respect Me is an initiative labelled by the Ministry of Families, Children and Women's Rights, as part of the " Sexism, not our kind! ".
Download the application for free on theApp Store and Google Play